Coconut and Cocoa together create the King of all Toppings. Of all our ingredients, this is one of the best and most delicious of all.

Crunchy, tropical and great on any yogurt, porridge, ice cream or smoothie bowl. Also excellent on desserts.

Made with very fresh, slowly dried coconut chips and covered with bitter cocoa powder.

There is a little bit of coconut sugar to offset the bitterness of the cocoa. These chips are addictive, you should definitely try them!

Fully organic.



Price per Kg: 19.60€
Recommended daily portion: 25g (= a handful). With each standard bag you can get at least 10 daily servings to add as a crunchy topping to your bowls. With bulk bags 20.
Ingredients and Nutritional Values
Ingredients and origin:

Dried coconut (67.85%)
Coconut sugar (24%)
Cocoa powder (7.5%)
Sea Salt (0.65%)
All ingredients are organic and grown and processed in Sri Lanka. Packaging takes place in Italy.
Nutritional Values: Per 100g of Coconut Chips with Cocoa

| | |
| --- | --- |
| Energy | Kcal 657,2 / Kj 2752 |
| Fat | 50,3 g |
|  - of which saturates | 46,3 g |
| Carbohydrate | 44,3 g |
|  - of which sugar | 32,5 g |
| Fibre | 10,8 g |
| Protein | 2,8 g |
| Salt | 0,2 g |

Allergens: May contain traces of nuts.

Shipping & Customer Service
Cost and Delivery time
We offer FREE SHIPPING on all orders above 59€
Shipping cost on orders below 59€ vary between 4.9€ and 9.9€ depending on the country.
We ship with UPS or DPD and the delivery time is usually 3-5 days
All our orders are processed within 24h and dispatched at 8am the day after the order is placed
Customer Support
We are always happy to help you via email at support@bowlpros.com. We will get back to you as soon as possible
The best practice to best preserve the topping mixes, dried and dried fruit is to keep the package in a cool and dry place, away from sources of light and heat. For example, a pantry cabinet in your kitchen will be fine.

When you close the bag, make sure to seal its zip well in order to minimize the passage of air and keep the condition of the dried / dried fruit in the best possible way.

For the expiry date of the packaged product, always refer to what is indicated on the label of the purchased product. Once the bag has been opened, our advice is to consume the granola within 1-2 weeks to fully enjoy its goodness.
Nutrition and Taste
This is our goal number 1: contribute to revolutionize the world of food and to make the healthy diet even the best. Taste, nutritional values ​​and clear labels will be invincible together.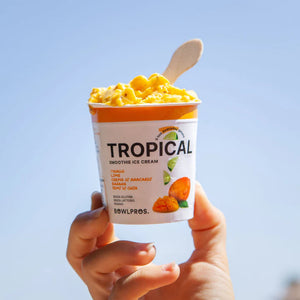 The best Raw Materials
We believe it is essential to start with excellent raw materials to make excellent healthy food. From peanuts to fruit, the selection of the best ingredients are the heart of Bowlpros philosophy.
Bowl Lovers since day 1
For us, bowls have always been taste, fun, nature and a world of food to be discovered. With a bowl in hand it simply seems that every food is a little better and the atmosphere immediately becomes magical, more relaxed.
Accessible to everybody
We do not only believe in the right price-quality ratio but also in working to make bowls and healthy foods accessible to any type of diet, from gluten-free to protein.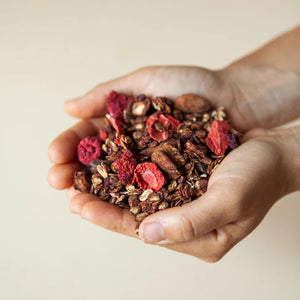 Continuous improvement
Innovating, making new products and continuously improving our recipes is part of our nature. We will gradually make breakfast and snacks the best moment of your day.